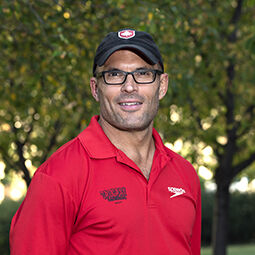 Born in Hinton, Alberta, Jeff began his swimming career with a local summer club. At the age of 15, he left home and moved to Edmonton and joined the Edmonton Keyano Swim Club. It was there that he first made the national team and then went on to swim with the University of Alberta Golden Bear's varsity team. In 1995, he completed his Bachelor of Science degree in Geology, moved to Calgary and began doing technical software support for a geophysical company. Jeff continued to swim for an additional year with the University of Calgary Swim Club. Throughout his swimming career, Jeff had many successes:
• 1996 World Master's Record Holder – 100 back
• 1988-1993 Varsity Swimmer, University of Alberta Golden Bears, Edmonton, Alberta
• 1993 World Student Games, Buffalo, New York
• 1992 Olympic Trials, Montreal
• 1991 Pan American Games, Havana, Cuba
• 1988 Olympic Trials, Montreal
In 1996, he joined the University of Calgary Swim Club as a coach. Jeff is a level 2 certified NCCP coach who focuses on excellence in stroke development, endurance training, dry land training, meet preparation, parent and coach liaison and using video analysis. In 2015, Jeff left the Oil & Gas Industry to pursue a career in Education. It was also in 2015 that Jeff won the Alberta Provincial Coach of the year award. Jeff is currently in his fourth year teaching with the CBE. He is teaching Grade 4 at Dr. Freda Miller School in the Southwest community of Evergreen.
He encourages the well-being and overall personal and swimming development of each individual swimmer in his group. Jeff also enjoys downhill skiing, mountain biking and having fun.
Personal Quotation: "There is no crying in sports unless you win a Gold Medal at the Olympics. And then I'll cry with you."