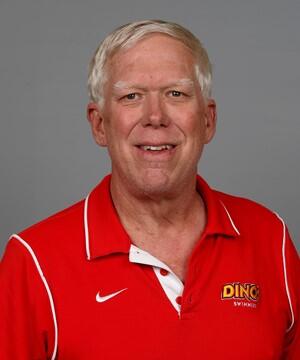 Mike has been coaching in Calgary at the UofC and UCSC since 1988 and has been the Head Coach/Director of Swimming since 1994.
In his swimming career, he swam at Lakeside Swim Club, Pointe Claire Swim Club, CAMO, University of Houston Cougars, Vancouver Dolphins, and UBC Thunderbirds. He also swam internationally for Canada numerous times and was a double silver medalist at the Pan American Games in 1975. He began his education for coaching at the University of Houston and finished at UBC with a BPE major and a minor in zoology.
Mike's previous coaching before Calgary was in Nanaimo, first as the Head Coach of the White Rapids (summer club) and then as the Head Coach for the Riptides (winter club). Except for his first five years in Calgary he has always worked as a Head Coach and has really enjoyed working with all the athletes and parents over the years. He has coached the UofC Dino's and UCSC teams to many national championships both at the club level and varsity, as well as placed many swimmers on Albertan and Canadian provincial and national teams. He has been on staff many times at almost every major International competition including but not limited to the Olympics, SC World Championships, LC World Championships, Pan American Games, Pan Pacific Swimming Championships, World Student Games, Mare Nostrum, North American Challenge, European Champs, etc.
​​​​​Mike has been voted by his peers as CIS Coach of the Year a few times and works extensively on behalf of coaches in Canada and Alberta by sitting on the Alberta Coaches Council and the Canadian Swimming Coaches and Teachers Association. He is a coach that believes in quality coaching, and self-reliance for the swimmer. Throughout his career he has had the opportunity to work with great staff, strong boards of directors, and has had the opportunity to build strong relationships with many swimmers. He looks forward to another new season!